The First Primeval Era was the first age of history in the universe, beginning with the Universe's creation, and the fall of the Dragon and Dijra Empires. Its end marked the end of the Age of the Immortals, and the dawn of mortal kind. Deities would first appear at the end of this era.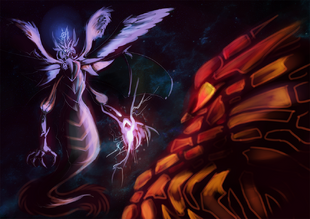 Notable Moments of History
Edit
The War of Creation
Beginning of Time and Space
Umetherial Creates Dragonkind
Apothis Creates Dijrankin
Beginning of the Age of Immortals
Beginning of the Cycle of Destruction
Dragonkind and Dijrankin expand to the full reaches of the Universe
Apothis tempts Primeval Sin to begin the Dijra-Dragon War
The First Chaos War begins
Dragonkind punished and cursed, Deities established to govern the Worlds to prevent interplanetary war.
Dijrankin begin to lose power, Deevolution begins
Rise of the Titans
Birth of the Titanic Imperium
Titans challenge the Gods
Beginning of the Titan God War
Fall of the Titans, birth of Celestials and Avians
Creation of the Angels and Demons
The Chaos War Ends, Apothis and Umetherial retreat into the Cosmic Void
End of the Age of Immortals, Dawn of the Age of Mortals
First Primeval Era ends with the restructuring of power of mortal races, countless worlds destroyed as a result of the Chaos War between Umetherial and Apothis.
Second Primeval Era Begins
Ad blocker interference detected!
Wikia is a free-to-use site that makes money from advertising. We have a modified experience for viewers using ad blockers

Wikia is not accessible if you've made further modifications. Remove the custom ad blocker rule(s) and the page will load as expected.